Topic: Goway South America
Hi All,
The photos below were all taken during the 70 day Bogota to Rio overlands that Goway used to operate. They date from 1980 to 1982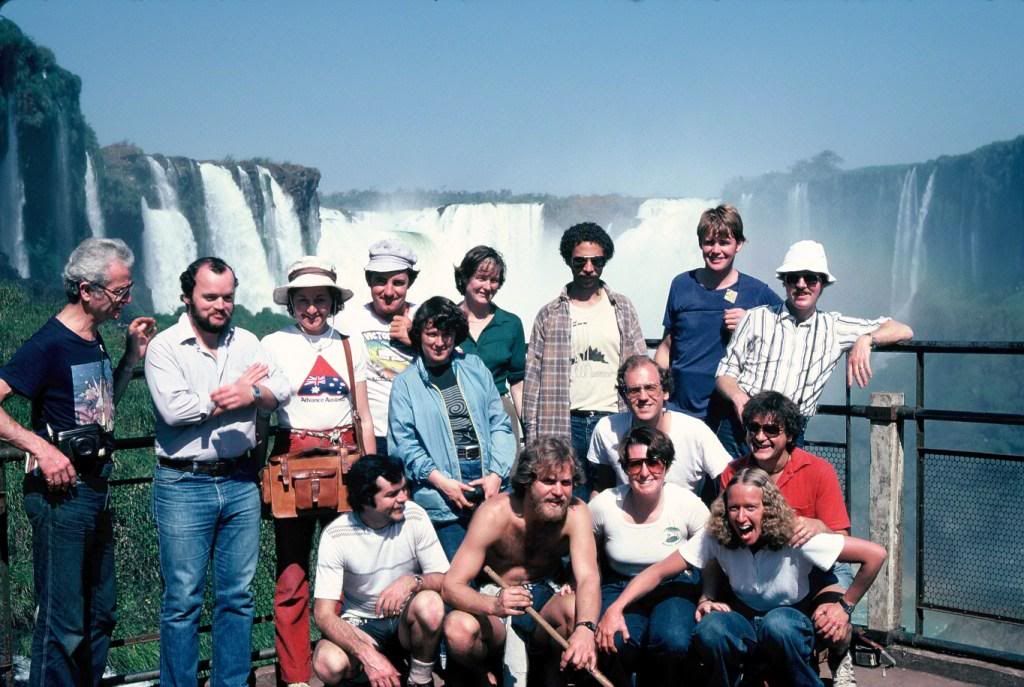 Those in this photo include Arnie Eisenstadt and Jim Cameron (Goway courier) to the left, Bob Freiwald the driver holding the stick at the bottom row, and Melissa and Fran at bottom row right.
Some of us atop Mt Chacaltaya, Bolivia (16,500ft). My now wife Anne is in the centre, then me, then Bob the driver to extreme right. The guy to the left of Anne is Neville Witty. He took photos of us in an ice cave which was then atop Mt Chacaltaya, but we have heard is no more. Neville, it's still not too late to send them!!

The bus was called "Sir Thomas". It found itself in tight corners sometimes ...

And in hot water other times ....

These are some of the group from my training trip. Jim Cameron, the courier, is in an Iguacu Falls photo above, and in Sir Thomas crossing the river.

This group was the last I took. Jonathan Petko was to take over; he is the bearded one in the back row.
Bob Freiwald and I at Puerto Mont. This is to prove that, as noted on the Overland Crew page, we were far too poor to afford Goose's t-shirts, or any others for that matter.

I have seen the other two great waterfalls - Niagara and Victoria, but my palm d'or goes to Iguacu.

At last, after all the tight corners, river crossings and mountain passes, we were on the beach road to Rio!