Topic: Overland Buses 1971 to 1973.
I first joined Safaris Overland in 1971 (see Overland to India with King Kong) and was on the Asian route till Spring 1973 before taking a break but then returning again to the route in 1976. Anyway thought it might be interesting to mention some of the Overland Companies I came across between 1971 to 1973 before I forget them ! Perhaps someone remembers these names and can fill in some of the gaps ?
'King Kong' Safaris Overland Bus in Eastern Turkey 1971.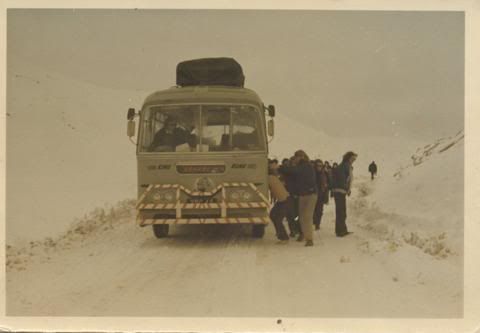 When I started with Safaris the well known Indian Operators were, Swagman of course, Sundowners, Hann Overland and top of the bunch in price at least Penn Overland and the German operator Rotell Tours. PBK was, or was about to go bust while Safaris Overland had replaced them in the battle for the midprice market. Safaris in turn went bust in 1973. Capricorn (or was it Indigo?)0then emerged for a few years but later also went out of business.I think the original Overland bus operator 'Indiaman'(see http://www.indiaoverland.biz/forum/view … 104)ceased business in the 1960's ?Rather a high turnover!! Swagman I would see on route fairly regularly and in 1972/73 I had to transfer some passengers onto two of their buses . What happened was that I had booked passengers in Kabul for Istanbul and Europe including two motor bikes. I remember loading them onto my bus roofrack in Kabul by taking them up to the first floor of a partly completed building next to the Mustafa hotel and then across onto the top of the bus-a rather delicate maneuver! When we got to Tehran my bus had cylinder head problems (think I had to buy a new head from Leylands in Tehran) and was delayed. It was my own trip and I could not ask my passengers to wait so did a deal with two Swagman buses and transferred motorbikes and passengers to them. Any Swagman drivers remember that one?!
I first came across Emil and Wende of Budget Bus (See also http://www.indiaoverland.biz/forum/view … =11)during the Winter of 1971/72. They had just started running cheap five week Tours to India and continued doing so till around 1980, one of the few successful low cost Overland Operators. They had their own yard up at Totteridge and Emil, worked on the buses, and checked out their drivers/subcontractors before they left. After 1976 I did many subcontracts for Budget Bus in my blue 41seater Bedford coach (Tour East)(Leyland upright 350 engine-good motor).
It was also around 1971/72 that I first net Greg and Nee of Magic Bus. At the time they were, I think, still running their own bus which was spectacularly painted in classic Pakistani designs (Mountains, trees, lakes, birds etc). Soon afterwards they moved to Amsterdam and set up their booking office subcontracting fast Magic Bus trips to India.
Then there were the individual Operators who either subcontracted their buses but drove them or booked and picked up passengers for Afghanistan and India (and back),while on route. I became one of these in 1972 when Safaris Overland went bust. They gave me the bus in lieu of cash owed and I ran it under the Safaris name until it was repainted yellow and renamed Himalayan Tiger. While I was freelancing between Kabul and Istanbul in 1972/73 I often came across Roland Watts and Bob Harlow of Tangerine Tours. Bob in particular I regularly saw on route. The last time we met up was at Bodjnoord in Iran. Heavy rain had washed out the road above the town and traffic was stuck. Amongst the vehicles was Bob in his Mercedes. When the bulldozers eventually cleared the mud I followed Bob's bus up into the hills. Near the top the Mercedes engine 'blew up' right in front of me -for a horrible moment I thought it was my bus! He was stranded but I managed to take some of his passengers to Istanbul. In the late 1970 s I think Bob was working in the music business in Germany.
On another trip to try to pick up passengers at the Pakistan/Indian border I came across Jaqueline who ran the[b]