Topic: Budget Bus August 1971 - The story
Re: Budget Bus August 1971 - The story
HI Derek,
I read it all, thanks very much for taking the time to write it
kit
Re: Budget Bus August 1971 - The story
Hi Derek,
I'm still reading your Overland story but thats a realy interesting write up. Its good to see the photos as well.
Your description of your departure from Emils house is a 'classic' !! By 1976 when I started subcontracting to Budget Bus the front of his house was still 'adorned' with various motorbikes and of course his old 'classic' Rover ( I got to drive it on occasion.) However by now Emil had a 'yard' next to an old railway cutting.It was a strip of pot-holed tarmac next to a long, grassy bank with an abandoned bridge at the end and room to park several buses.Nextdoor was a car repair workshop run by an Aussie, Laurie. There were of course plenty of bits of engine- cylinder beads, crankshafts and the like strewn around, especially when a trip was imminent !
I've forwarded your story to Emil and Wende and am sure they will enjoy it. However as havnt heard from them for a while think they may both be in Sri Lanka where they have a house.I'm off to India for a couple of months in Oct but not for the same reasons as the 1970's but heading for the jungles and my hobby, wildlife and photography.
Cheers,
John.
Re: Budget Bus August 1971 - The story
John,
Glad to hear you are enjoying our write up of the trip we made on Budget Bus. The chaotic departure certainly had an element of farce about it especially when we had to push the bus out of Emil
Re: Budget Bus August 1971 - The story
Hi Derek,
I spoke to Emil on the phone the other day and mentioned your write up. He tells me he has been pretty busy recently so dont think he has read it yet.Incidentally he isnt worried about the odd adverse comment about his trips so dont worry about that !
Although I met Emil and Wende as early as 1972 in Kabul when I was working for Safaris Overland I didnt actually start subcontracting with Budget bus till 1976 and then continued working with them till around 1980 (cant remember the exact dates).You are right about the paperwork. In the early 1970's no one seemed to bother about paperwork and even driving licences.I never even had a bus licence for the UK though the trick was that if one applied for an 'International Licence' this allowed one to drive buses legally while abroad.I think you may even have been able to drive passengers down to Dover, though cant be certain about that.
However by the mid 1970,s things were tougher and special licences were needed to carry passengers in the UK.The trick was that Emil would hire a local coach to take the passengers down to Dover where at the Docks they would transfer to their Overland Bus which had been driven down in advance.This was usually a Bedford SB 41 seater - remember the old snub nosed school buses...Unfortunately the coach that the passengers boarded in London was often one of the latest models so the Overlanders were often in for a bit of a shock when they transfered to their 'real' bus !
I well remember on one of my later trips to India arriving in Dover with my old 1960's 41 seater Bedford SB8(Leyland 350 engine).This bus had done quite a few trips and although reliable and well loved was rather the worse for wear-I sold it in Kathmandu soon afterwards.Before leaving the London yard Myself, Emil and helpers had given the interior a quick going over. The seats were beaten releasing clouds of dust collected in many and various countries and then the floor washed out with soap and water.That improved the appearance somewhat though there was still a lot of dust in those seats and under them at the back were an assortment of spares including a complete cylinder head.
However what we couldnt do much about was the front windscreen which had been botched together in Pakistan in 3 pieces after a stone went through it on a previous trip. The rear window, I think,was also missing replaced by plywood or something similar.However what was most obvoius were the side windows - these old Bedfords had individual windows that could be pulled down and opened. However several of these windows had been destroyed by 'stone throwing' locals and I had replaced them with plastic on route. Unfortunately some of these had now become loose and to stop them from opening I had propped them up with 'tent poles'.The whole wooden body of the coach had also loosened up over the years to the extent that when I drove round a corner the whole coachwork could be seen slightly swaying ! My passengers turned up at Dover in a rather fancy looking bus and what they thought when they saw the old Bedford I dread to think !! Perhaps they were in a state of shock..... Anyway the ensuing trip went well and after a few days with no breakdowns the Overlanders became very protective of their 'old bus'. John.
MY BEDFORD COACH (taken by passengers Tim and Niki Gill on an Indian trip 1979?)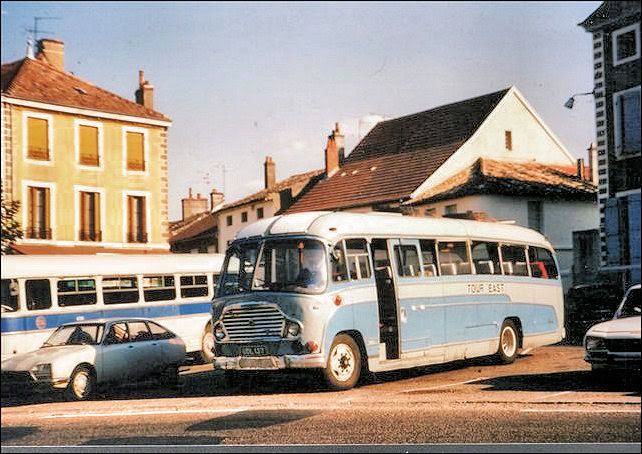 INSIDE VIEW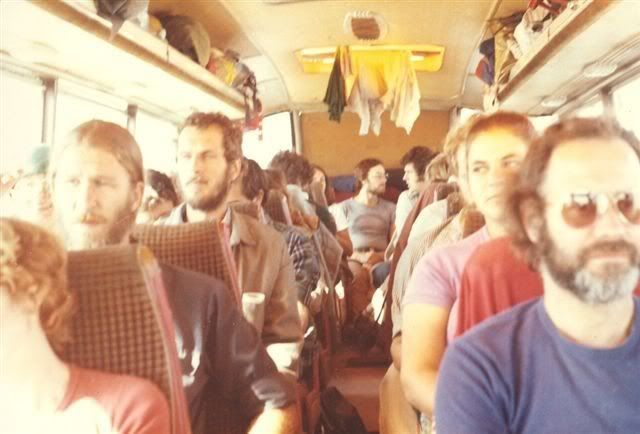 Re: Budget Bus August 1971 - The story
Dear John,
Nice to see the old, blue, "Tour East" bus again. I remember some of the "windows being broken by stone throwing locals". I was helping you on a trip from Dehli to Goa [Dec 1978 perhaps] when the Janata government decided to put former prime minister Indira Ghandi in gaol. This unleased a series of protests - some of which seemed to involve attacking vehicles at random. We were driving through some village in the middle of no where when we came under concerted stone fire. I remembering jumping off the bus and - together with a couple of passengers - remonstrating loudly with the stone throwers at which point they stopped and even became a bit sheepish. I always remember that when I got back on the bus, having been a tad scared by the situation, I was told off by a couple of passengers for "being too aggressive man - chill out". I've never seen myself as macho - quite the opposite - but I think chilling out on this occasion would have led to many more smashed windows.
Do you recall this incident?
Cheers Rufus
Re: Budget Bus August 1971 - The story
Hi Rufus, Sorry I'm afraid I cant remember that particular incident - a case of too many stones through too many windows in too many countries, I think, or perhaps its just my memory !! As far as the passengers go I certainly remember that those Winter runs to Goa with a 'load' of 'shall we say' rather dubious passengers picked up in Kathmandu and Delhi who were heading South for the sun.As you say they were all trying to be 'ultra cool' and non aggressive though, with that attitude, I doubt any of them would have been able to run a bus. As far as chasing rock throwing locals goes that was definitly the norm, and was the only way to probably prevent situations getting out of control- and by the way I would hardly call you 'macho' if anything quite the opposite! I remember in the early 1970's having a stone thrown through a large side window in Eastern Turkey by a kid and pursuing him with the aid of the local constabulary into the hills ! It was only at this point that it occurred to me that all this action was 'rather over the top' so I made a joke of the situation and told the police not too be too hard on the kid when they caught up with him.
If you can remember any more stories on that Goa trip would be interested to hear them - might even stir up a few of my 'rusty' memory cells.Incidentally which route did we take. Was it via Agra and Gwalior or the direct route south from Delhi ? I'm off to India for two months in Oct. to visit friends in North India and to wander around the jungles looking for Tigers-have a new motion activated Trail Camera so hope to get some good wildlife photos withouth having to be on the spot myself ! Cheers, John.
Re: Budget Bus August 1971 - The story
Dear John,
My memory too is starting to fail me. I'm not too sure of our exact route on that trip. I seem to remember that we went at it pretty hard for the first day but we may have stopped off at Jaipur. After that I remember breaking down - can't remember the exact problem but I recall being in awe of your creative use of "plastic padding" to effect repairs. I also remember stopping at either the Ellora or Ajanta caves - maybe even both. I have one other memory which I maybe shouldn't tell you about. There was a national fuel shortage at the time and we were running very low. We stopped in some town and pulled into a filling station to refuel. The garage-wallah said that because fuel was short he would only sell it to us if we agreed to buy some engine oil as well. As we didn't need any you got quite angry and had a stand up row. You refused to give in to blackmail and went off in an auto-rickshaw [they were never called tuk-tuks then outside of thailand] to search for another more co-operative garage. We couldn't take the bus on that quest as its fuel was really low. You came back 30 mins later fuming and saying no one else in town had any diesel for sale. At that point I told you that shortly after you had left the garage the owner had relented and agreed to fill us up. What I never told you was that in fact I had said "blow this" and had bought some of his engine oil - and in other words given in to the very blackmail you had been determined to resist. The ransom really wasn't very high and we all wanted to press on! Emil was a about 24 hours behind us on that trip to Goa. Ernie was also in Baga that year [78] and I remember meeting another budget bus driver Angelo [?] briefly although he was staying on another beach. I think Rodney was there as well - he had certainly been up in Delhi - I may be mis-remembering but I think he then tried to do a tour from Goa to Nagaland. I'm probably mixed up on some details.
Regards Rufus
Re: Budget Bus August 1971 - The story
Rufus,
Um, well, thanks for buying the engine oil-it certainly saved me some hassles !! Actually in the end I'm sure I would have given in myself and bought the oil as,eventually, one had to be pragmatic...I again cant remeber that particular incident but it was certainly in character.I know that one got so used to being being ripped off that you did tend to overreact.In particular I recall that on the run to Goa there were many checkposts which were meant to be for local trucks and buses where various taxes had to be paid. However the 'check post' operators were not averse to trying to extract some extra rupees off unsuspecting foeign drivers.I dont think I ever paid them anything probably because the sight of an irate driver and large bus blocking the main road was rather problematic for these 'tax collectors' and they soon gave up.
I remember the Ellora and Ajanta caves as a long valley with a walkway on the right hand side of the valley off which were many caves and sculptures carved out of the rock face .I also remember whole half rocks filled with Amethyst crystals that one could buy at the entrance.As we visited the caves and they are east of the direct Delhi to Bombay route ,its likely that we headed for Goa by this route- Delhi -Agra- Gwalior-Jhansi -Indore-Jalgaon-Aurangabad (Ellora and Ajanta nearby) before going through Bombay.From Bombay we would then have headed for Goa via Poona before crossing the high hills to the coast close to Ratnagiri and then South through coconut groves towards Goa.I dont think it was this trip but I once spent the night sleeping with my passengers on the small pier at Ratnagiri.There was noone else around and by the time we arrived the small town was asleep.What an idyllic spot I thought with its clear sea and long sandy beach- at least that was until I woke up in the morning to find rows of locals squatting along that pristine beach on what was evidentally their local toilette !
I remember Angelo(was he staying at Vagator ?) and as you say Rodney was around.It may have been on that trip ,but I was later told Rod visited some friends at Anjuna and apparently helped himself to some of a cake they had just baked not realising it was 'loaded' with hash. This was not exactly Rod's style as he didnt even 'smoke'. Unfortunately I never heard what happened as a result of this unplanned 'meal' !! You are right though that Rod planned a trip further South and then up the East Indian coast. In fact he actually did this tour with passengers booked in Goa. I am not sure whether he made it to Nagaland though Emil might know.
I'm having trouble with the exact dates of the trips but hopefully the full Budget Bus passenger lists for 1975 to 1980 will up on this website soon and that should help. Anymore 'incidents' you can remember ?! John.
Re: Budget Bus August 1971 - The story
" . . . hopefully the full Budget Bus passenger lists for 1975 to 1980 will up on this website soon and that should help."
That should be in the next 2 or 3 weeks, John. I have to go down to North London soon, so while I'm there I'm going to call in at Emil & Wende's place to collect some more passenger lists